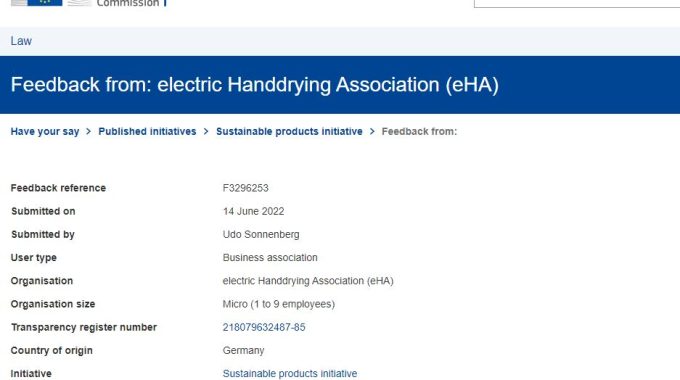 Sustainable Products Initiative – Feedback eHA to EC
This initiative, which will revise the Ecodesign Directive and propose additional legislative measures as appropriate, aims to make products placed on the EU market more sustainable.
Consumers, the environment and the climate will benefit from products that are more durable, reusable, repairable, recyclable, and energy-efficient. The initiative will also address the presence of harmful chemicals in products such as:
electronics & ICT equipment
textiles
furniture
steel, cement & chemicals.
The electric Hand Dryers Association (eHA) highly welcomes the European Commission's proposal for a Sustainable Products Policy Initiative (SPI). eHA is an international association comprising small and medium-sized electric hand dryer manufacturers, most of them European. The hand drying businesses in Europe are family-driven and comprise a mainly medium-sized industry with products that have fallen into the scope of the Ecodesign Directive and would therefore also be affected by the SPI. Get the full text on EC-Web-Site.