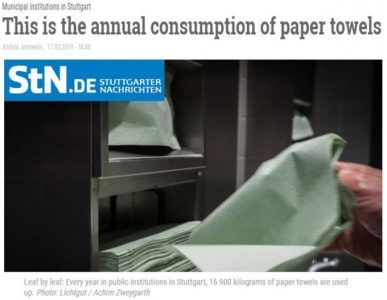 Lot`s of Paper Towels used in Stuttgart
The Stuttgarter Nachrichten (StN.de) reported last week that in Stuttgart`s urban facilities (offices, schools, museums etc.) altogether some 16.900 kilometers ("kilograms" below the picture is wrong) of paper are used every year. That would correspond to about 25.6 Mill paper towels.
The discussion startet because there will be a new tender by the city of Stuttgart in 2020 for the framework contract for the supply of hygiene and cleaning agents. Read the full article here.