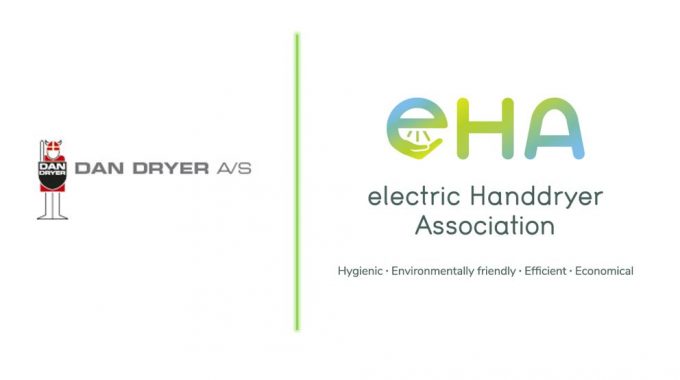 eHA PRESS RELEASE: DAN DRYER A/S Joins eHA as Regular Member
Berlin/Brussels/Denmark – 18 January 2021 – In recent months, hygienic hands have been heavily associated with staying healthy during the global COVID-19 pandemic and electric hand drying has been recommend by WHO as one of the most effective and safe ways to complete the hand washing process. The electric Handdrying Association's (eHA), which is made up of hand drying firms across the globe, is not only committed to promoting good hand hygiene, but also fighting false information on the internet – and now the growing organization is pleased to announce a new member and manufacturer of electric hand dryers.
"DAN DRYER was one of the very first hand dryer manufacturers on the market, and has gone on to establish a leading position as supplier of toilet equipment. The Viking logo is easily recognisable in public toilets all over the world", Vagn Eden says. He goes on: "We`re proud on the fact, that we belonged to the founding members of eHA four years ago. I hope we can easily tie up again."
Statement from Udo Sonnenberg, Managing Director of eHA:
"We are happy to re-welcome DAN DRYER on board. It's important the electric hand drying industry stands together and helps to educate the public and commercial industries on the truth when it comes to hand drying. We have built a web-site which breaks down fact from fiction. I am optimistic that, with sources of information such as this and the combined effort of the eHA, that electric hand drying in the long run will become the leading, sustainable hand drying system."
About DAN DRYER
Complete hygiene solutions
Many years' experience has led to the company becoming specialists within development and production of toilet equipment. DAN DRYER now offers customers a wide range of products, right from hand dryers to complete hygiene solutions.
DAN DRYER is world famous for their hand dryers however, companies all over the world start demanding our other products such as; baby changing units, waste bins, toilet roll holders, soap & disinfectant dispensers and accessories and much more.
About eHA:
Companies supporting the alliance »electric Handdryer Association – eHA« are representing an efficient, sustainable and innovative market. Modern products in the air-based hand drying business are characterized by being environmentally friendly, efficient, and economically attractive. Together we make electric hand drying the leading system!
Press Contact: eHA Office, Phone: 0049 30 20218804, E-Mail: mail@handdryerassociation.org
Corona-Check-Site: https://handdryerassociation.org/corona-check-on-electric-hand-dryers/