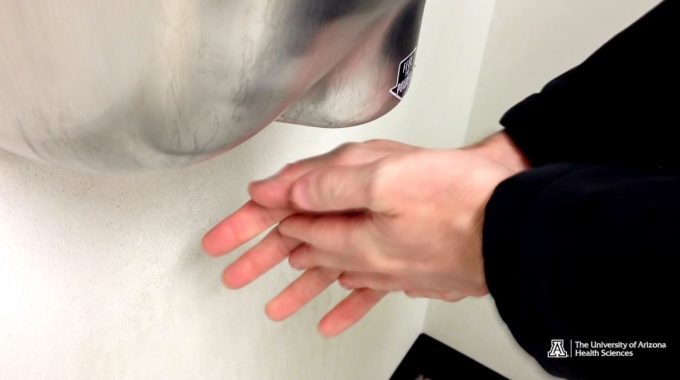 eHA PRESS RELEASE: New Study from University of Arizona | Researchers Find Hand Dryers and Paper Towels to Be Equally Hygienic
Tucson (Arizona)/Brussels September 2020 – Health organizations worldwide agree that proper handwashing and drying can prevent the spread of infectious diseases. Now, renowned researchers at the University of Arizona have concluded that there is "no data to support any human health claims relative to hand dryers versus paper towel use." Their scoping review, Comparison of Electric Hand Dryers and Paper Towels for Hand Hygiene: A Critical Review of the Literature, was recently published in the Journal of Applied Microbiology.
A scoping review is a type of research that seeks to examine and clarify broad areas to identify gaps in the evidence, clarify key concepts, and report on the types of evidence that address and inform practice in a topic area. If a number of studies exist on a particular topic, and those results are varied or conflicting, a scoping review can help simplify something otherwise complex. In the instance of hand dryers versus paper towels, the University of Arizona's scoping review helped to identify which hand drying studies are credible and should be consulted for their results and recommendations.
To begin their study, the researchers examined 293 pieces of data on the topic of hand hygiene ranging from published studies, news reports and online content. Then, they devised criteria to examine the studies and narrow their focus to credible, peer-reviewed or scientific studies. Ultimately, 23 studies met said criteria and were examined by considering such factors as sample size, methodology, data quality and whether or not the study was set up to mimic a real-world scenario.
Each factor was identified as a strength, weakness or neutral aspect of the study, and scored. Once the values were tallied, the studies could be ranked and prioritized. The study that was found to have the highest rigor score was Effects of 4 Hand-Drying Methods for Removing Bacteria From Washed Hands: A Randomized Trial conducted by the Mayo Clinic. It found that "…there is no difference in bacteria counts when drying with paper towels or hand dryers." None of the studies reported any negative effects of paper towel or hand dryer use on human health.
"The electric Handdryer Association is pleased to share the results of this new study. Hand dryers have come under undue scrutiny in the media and workplace authorities, and these results from researchers at the University of Arizona dispel myths by sharing the truth that hand dryers are hygienic, and confirm the recommendations from the World Health Organization that everyone "frequently clean [their] hands…" and "dry [them] thoroughly by using paper towels or a warm air dryer", said Udo Sonnenberg, Managing Director of the eHA.
electric Handdryer Association member and Excel Dryer's Vice President of Marketing and Sales William Gagnon, reiterated this sentiment stating, "The findings echo the Centers for Disease Control and Prevention's hand drying guidelines. The importance of hand drying cannot be overlooked, and it is critical that the truth about hand dryer hygiene is told through science. In the end, science always wins."
About the electric Handdryer Association's (eHA)
Companies supporting the alliance »electric Handdryer Association – eHA« are representing an efficient, sustainable and innovative market. Modern products in the air-based hand drying business are characterized by being environmentally friendly, efficient, and economically attractive. Together we make electric hand drying the leading system!
For more information, visit handdryerassociation.org
Press Contact: eHA Office, Phone: 0049 30 20218804, E-Mail: mail(at)handdryerassociation.org
Please also visit our Corona-Check-Site