Interview With eHA Founding Member Thierry Launois, Managing Director of JVD
2.
Interview With eHA Founding Member Thierry Launois, Managing Director of JVD
Hand Dryer Industry Is Building A Worldwide Association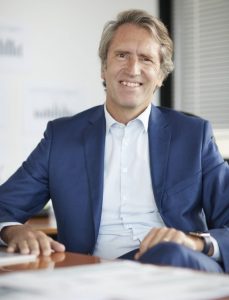 During the last years there has been a lot of discussion whether electric hand drying is hygienic or not. Myths and various stories are being told on TV, in newspapers, magazines and on the web while the technology is on the rise. More and more public facilities, shopping center, restaurants, gyms and stores installed them at their toilets. Companies from the electric hand dryer industry now got together building a worldwide association, called the electric Handdryer Association (eHA). In this series of interviews eHA founding members talk about their plans and why electric hand drying will be the system of the future.
Question: You and your company are about to found the electric hand dryer association together with other big players from the hand dryer industry. What is your motivation?
Thierry Launois: In most cases, electrical hand drying is the most appropriate solution given the efficiency and ecological issues. Unfortunately, the strong and intensive lobby made by paper producers has stopped the spread of electrical appliances that are stuck at an equipment level between 10 and 15 percent. While providing false theories on hygiene issues, they encourage the massive destruction of trees to dry hands. For example: One ton of paper requires 17 trees. In 2017, we cannot accept this when the planet is facing major environmental problems.
Question: Is there any visible trend in your main sales market or country where the use of electric hand dryers has raised? Which sectors are offering the strongest growth prospects?
Thierry Launois: All sectors offer growth prospects since the electric hand dryer can be easily installed, replacing paper dispensers. Electrical wiring can be a problem, but the return on investment is usually very fast because of savings in paper consumption.
Question: There are allegations that electric hand dryers are not hygienic? What do you say about it?
Thierry Launois: The claims are based on very oriented studies that do not show the big picture. For example, what about hygiene issues with pieces of worn wet paper lying on the floor or on a bin already filled with garbage. What about the transmission of bacteria between people who have touched the same paper dispenser. To have a clear and objective opinion on hygiene issues, we should observe the toilets in a long time of use and in real conditions of use. And not especially the best toilets where cleaning agents come very often but the standard places where most of the time the paper is missing and where the used paper is lying on the floor.
Question: Your message is: Electric hand drying is the system of the future. Why?
Thierry Launois: The global surface of forests in the world is dropping in average by three million hectares each year. The increase of CO2 quantity in the air is directly linked to this long-lasting problem. Therefore, it is high time to change human behaviors and go for electrical solutions.
You want to know more about the electric Handdryer Association and how to become a member? Contact us by mail@handdryerassociation.org or phone +49 30 20 21 58 04.